Hello everyone
The longer I use this program, the more problems I find.
And yes:
Log4OM2 -> JTDX - does not log in QSO - you have to do it manually.
Log4OM2 -> JT-Alert -> JTDX - problem at the start:
The picture below: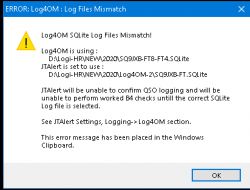 Log4OM -> FL-Digi - configuration problems and FL-Digi and Lof4OM2 to make it work properly.
I run Log4OM2 - and the program scans the .adi file selected in the Adif monitor option - why does it do it every time the program is started? - CPU load reaches 60% - scanning takes already 15 minutes and the end can not be seen.
I read about various methods of solving problems, e.g. with JTDX but it doesn't work.
I don't want to use the WSJT-X program with Log4OM2 because it doesn't suit me, I prefer JTDX.
And there are three options:
1 - JTDX and Log4OM2 and manual login
2 - WSJTX and LOg4OM2 - automatic login
3 - Stay with Log4OM v1 - no problems.
And finally, what's happening right after starting Log4OM V2
Log only has 3912 QSOs
What will be like switching to log with 11500 QSO

Regards